Our web design company in London specializes in offering various solutions to business owners in the UK seeking to promote their companies. Among these, app development solutions have become increasingly popular among our existing clients. We also have a large number of new clients asking for mobile app development services in London.
Our services target the best results for our clients which is why we have a great team of app developers in London who can listen to your requests and act accordingly.
All the apps we develop are user-friendly and intuitive so that your clients have the best experience when they use them. We will also make sure the apps we develop for you are fast after proper tests, so when you will get the final product, you will be more than pleased.
We can create apps for various purposes, such as increasing your customer database, for great communication with your business partner or for easy interaction with the services/products you offer.
Below, we invite you to read about our app design services in London. You can rely on us for complete web design and development services in London.

The phases of app development

The creation of application starts with an idea, however, before becoming something tangible or better said usable, this idea must go through several phases in order to turn into something users can enjoy and the owner of obtaining benefits from it.

Compared to web development and web design, app development implies the support of specialists who can help with the following:

research which is essential when wanting to create an app and our app developers in London are quite experienced in this field;
design or wireframing which will help the developers and the client understand how to the app will look like and work;
decide the language to use in the creation of the application and the users it will target;
creating a prototype which is the first phase in the actual development of the application;
testing the prototype is crucial in order to asses its functionality and whether it meets the requirements of the owner.

Even if the phases seem easy, it is important to know that they take time and new functionalities or changes in the design can appear during its creation. Our app developers in London will usually work to improve the prototype or change it completely if it does meet the requirements of the future owner.

Just as important as the app development process is the language used for the creation of the app and the aspects which need to be considered once it is launched. From this point of view, there are applications created for e-commerce websites that need to resemble the websites they represent and applications for other types of companies, including applications that target the most important smartphone operating systems.

Our app development services in London can respond to all the requirements of clients which is why it important to discuss with our specialists all your ideas and projections over the future app.
Our web design agency in London offers an entire portfolio of services that can include web and app development in order for clients to have their requests handled by a team that can fully understand their desires.

App development languages

Our app developers in London will use the most popular app languages available to create fast and intuitive applications that work on two of the most popular operating systems in the world: Android and iOS. Among these, Python, Java, Swift, and PHP are just a few of the many available. The use of one language or another depends on the characteristics of the app and the intentions of the owner.
These are just of the languages used by our app developers in order to deliver good applications to clients. We remind you that we can also help create logos for your company if you are looking for branding solutions that will make your business easy to recognize on the Internet and outside it.

How mobile app development works
We all have an idea about how an app works and what we can use it for. However, behind the end-user application, there is a lot of work and our specialists are doing everything within their power to create user-friendly and fast-response applications for those enjoying them. Before starting to work on your application, our app developers in London will take you through every step of the development process.
Returning to the mobile app development services we offer in London, we can say that there are several aspects that should be considered when it comes to the creation of such applications.
In the beginning, app development implied the creation of applications created with the purpose of having an optimum performance, while nowadays, this process implies not only optimum performance but also rapidity, a pleasant experience, increased functionality and additional actions that can be completed with a single click. This is what our mobile app development company in London is doing for its clients.
You can rely on us for a large number of services related to web development, including app development services in London.
Our app developers in London always strive to offer the best services to our clients, no matter the type of applications they need to have created. You can also rely on us for other services, such as website design in London.

We invite you to read about our app development services in the scheme below: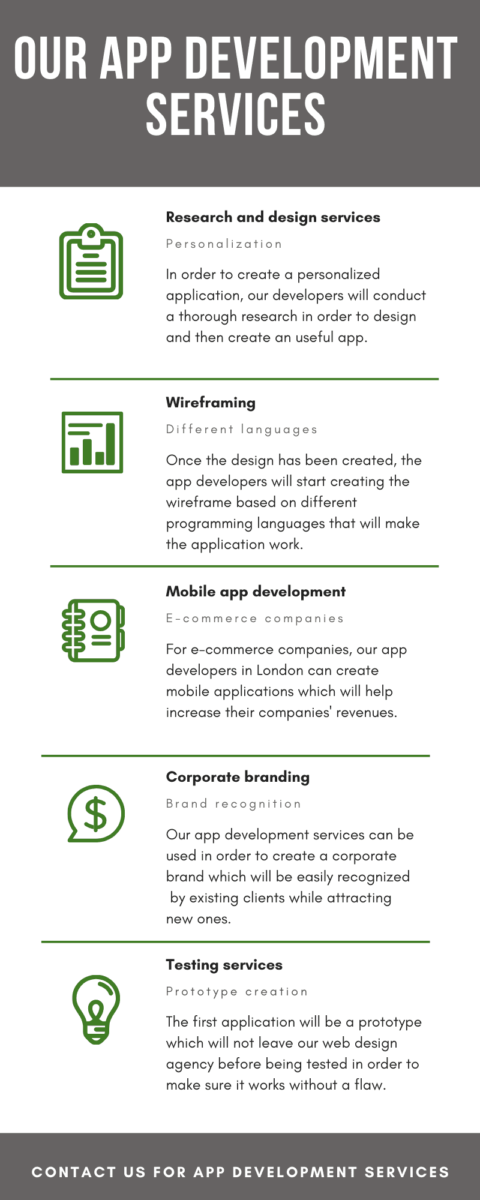 Mobile app development in London and how it can help a business grow
A great number of our clients ask about the process behind mobile application development, and our specialists in London always answer their questions in order for them to understand how such applications can make their businesses grow.

Here are a few things to consider when having a mobile app created for your business in London:

according to recent surveys, half of the time spent by users online is on the mobile apps of companies;
smartphone users prefer apps to websites because they are intuitive and easier to access;
almost 90% of the users prefer native mobile applications to mobile-optimized websites;
smartphone users in the UK usually have installed close to 30 mobile apps on their phones;
users spend around 35 hours per month on mobile applications, and the number of hours is growing.

When considering mobile application development in London, there are a few questions a business or website owner must consider. Together with our specialists, they will be able to answer questions like what the mobile app will help with, how will it impact the marketing plan, how will users benefit from such an app and how is competition using such an app.
Our app developers in London will help you answer the questions above, as well as any other questions you might have on app design. Also, if you need any web design services in London, we are at your disposal with complete services.

What to consider when having a mobile app developed in London?
Business owners interested in our mobile app development services in London will need to consider the following aspects:

to resolve the problems encountered by users and clients when interacting with the website;
the features to be implemented on the app are essential and can make it a successful one;
the platform the app will operate on and the operating systems it will address (many business owners decide to implement their apps on various operating systems);
the budget allotted for the development, but also the maintenance of the application;
the user experience should be the core of the mobile app developed for a business or website.

Together with our app developers in London, business owners will identify the needs of their clients, as well as of their companies and put together a viable solution which answers those needs and their budget.
With vast experience in app development, our web design specialists in London can advise on the best ways to incorporate such an app with a website or mobile operating systems.

Types of applications based on device operating systems

The world is divided into smartphone users and desktop or laptop computer users. These devices usually run one of the following operating systems:

Android;
iOS;
Windows is the most popular among computer users.

The creation of applications for an operating system (OS) has its main requirements and must meet specific conditions, as well as the use of various tools for development and design.

If you are interested in having a mobile or a computer app created, you can rely on our developers in London who are at your service with tailored solutions.

How to create an Android OS application

Android is by far one of the popular operating systems in the world. Designed and implemented by Google, the number of mobile phones running on it is the largest in the world.

Business owners addressing Android users can obtain many financial benefits if they have their apps created for them. At the moment, Google Play Store is one of the richest digital libraries in the world in terms of applications. But what does it entail to have a mobile app created for this operating system?

Our app development team in London has access to a wide range of programs they can use, however, the advantage of having an Android app comes from the fact that the mother company has launched the Android SDK kit for developers in 2007. Ever since it is possible to create mobile apps with the help of the resources provided by this kit. Android SDK facilitates:

access to numerous libraries of programs and documentation for the creation of applications;
new updates to the kit just like in the case of operating system;
the use of interface on any desktop operating system, from Windows to OSX;
access to all the tools needed to design and develop the app quickly.


All instruments are integrated with graphic interfaces for the simple use of the developer. The main advantage of this kit is that the mobile app can be developed quickly and at competitive costs.

The development of an Android OS app takes around 18 weeks, which is why if you decide on one, you can get in touch with our developers in London right away.

iOS mobile app development services

iOS is the main competitor of Android when it comes to mobile devices, including tablets. This operating system is usually used by persons and business owners interested in a more personalized experience. The fact that iOS uses only applications dedicated to it, makes the creation of apps for it more expensive.

Our London app developers are at the service of those interested in launching a mobile app for iOS.

The development of such an app implies using Swift, a program dedicated to the creation of such applications, but also instruments like JavaScript and CSS modules.

An iOS mobile app requires a source code that needs to be integrated with the React Native platform. All these steps are created by our front-end developers in London. Then, back-end programmers will take over and work on the:

creation of the media library;
geo-location functions;
push notification enabling functions.

iOS is a more pretentious operating system, and it requires more work which attracts a higher cost for the app.

One of the main steps that need to be completed before launching an app is testing. In the case of iOS apps, attention is paid by our programmers in order to ensure smooth running before the launch.

Why it is still important to have Windows apps created

Microsoft' Windows is one of the oldest operating systems and the most employed on desktop and laptop computers. Over time, it has gone through many changes which have given it a modern look and the possibility of implementing various apps for those looking to completing their tasks as quickly as possible.

Because Windows is an operating system employed by companies, it is also very stable which is why the main benefit of having an app created for this OS is its stability.

If you are interested in having a Windows app developed, our specialists in London are at your service.

Also, if you cannot decide on one of the apps presented above, hybrid applications are a good option for those targeting as many smartphone users as possible. Even if applications designed for specific operating systems are quite popular, there are also many hybrid apps that work efficiently.

We invite you to discuss all the options available with our app developers in London. They will explain the processes behind the creation of each type of application and their costs so that you can decide which solution works best for you.


Applications and competitors

During the initial phases of the app development process, checking on the competition is essential to help your app stand out from other thousands like it. This is why our app developers in London could take some time just to check aspects such as the number of installs of similar applications, as this will determine if the app has users and how many. The ratings and reviews of apps used for the same purpose can also be good indicators on just how well they are received by users, while the history behind some of these companies can show if their apps have increased their popularity.

These are important parameters when having an application created, however, there are also others such as the marketing of the application which will lead to paid advertisements in order to attract clients. In this case, we can help you with Social Media Marketing (SMM) and other paid advertising solutions. We also invite you to watch our video:
Monetizing an application

Applications are created to generate money and from this point of view, our app developers in London can help with the creation of the following:

in-app purchase functions;
premium features based on small fees;
paid subscriptions.
The best ways of choosing the functions users would pay for, market research can be very useful. Based on your choice, our developers will be able to create the best application for you. However, you can also consider adding such a feature later on.
When it comes to mobile operating systems, a recent study published by Statista.com shows that:

in 2018, iOS was installed on 210 million smartphones sold all over the world;
Android smartphones are expected to represent 87% of all smartphones sold and delivered worldwide by the end of 2019;
the Android operating system is also expected to be installed on 1.2 billion smartphones out of all 1.37 billion smartphones sold by the end of 2019;
Android is currently the most employed mobile operating system with a 75% global market share.
We are at the disposal of clients with tailored mobile app development services at very affordable rates in London, so do not hesitate to contact us. You can rely on our app developers in London for the creation of any type of application.