In the last few years, e-commerce has become an industry itself, giving a new purpose to those setting up businesses with the scope of selling goods and services. Opening an e-commerce company is easier than opening a traditional store, while people are interested in their own comfort and prefer to have the goods they purchase delivered at their doorstep.
The opening of an online shop implies the creation of an e-commerce website to which a shopping cart must be added.
Below, our web developers in London explain how an e-commerce websiteis created. Our developers who are specialized in e-commerce website design can handle the creation of e-commerce websites with or without shopping carts on various platforms.
Considerations when having an e-commerce website set up
Online shopping has increased a lot in the past few years and in the UK this industry is one of the most performant. The creation of a website for an e-commerce store must take into consideration various aspects, among which being optimized for mobile devices, such as smartphones and tablets, as UK clients prefer these devices to the traditional desktop computer.
You can also have a mobile application developed for your e-commerce website. Our app developers in London can create such an app in order to help you increase the revenues of the company, as well as to reach a larger number of customers.
The shopping cart with as many features as possible is one of the most relevant parts when having an e-commerce website because it will simplify the interaction of customers with your company. Then, you will need to pay attention to the payment processor. You can either choose an integrated payment processor from the hosting company or a separate one, however, these two functions are vital for your online business. If you need advice on how to choose the payment processor and what to include in your shopping cart, the agents in our web design agency in London can advise on popular solutions. We can help our clients with dedicated e-commerce website design services.
Steps of creating an e-commerce website
The first step when opening an online store in the UK or any other part of the world is to select a domain name and register it with accredited registrars. The one important thing to consider when setting up an online shop is for the chosen name to represent the activity or the goods/services sold.
Once this aspect is taken care of, the creation of the e-commerce website can begin. Here are the steps our web development specialists in London follow when creating a website with a shopping cartfor an e-commerce business:
choose a platform to host the website (there are many platforms designed for hosting e-commerce websites);
choose a template for the website and start customizing it in accordance with the client's requests;
in terms of themes, the colors, the font of the text and the arrangement of the pages must be established;
adding the necessary tools for selling goods (the shopping cart, the online payment tools);
create the product pages and choosing the product names in order to attract clients.
Once the e-commerce website is created, we can also handle the product description pages. With the help of our website design company in London which has a team of experts in e-commerce websites design, your e-commerce website can be ready in the shortest time possible.
Considering an e-commerce firm needs a lot of marketing in order to beat its competition, we can also support you with Search Engine Marketing (SEM) and Social Media Marketing (SMM) services.
You may also rely on our app developers in London if you require an iOS app to be created. It is unquestionably advantageous to target users of this operating system because your business will be able to better meet their needs. Also, the iOS ecosystem is one of the most dependable and well-liked, which makes it a fantastic setting for businesses to operate in.
Select a relevant domain name
The creation of a website needs some preparation before starting to build it. Since we are talking about an e-commerce website that will host an online store, the name of the shop must be a relevant one for the products or services sold. For this purpose, we can help with tailored corporate branding solutions and logo creation.
Based on the name and logo of your future company, our web developers and designers in London can start to create an e-commerce website that will meet your requirements.
If you have any questions related to the creation of a website or need information on the process of website development, our specialists can offer detailed information. We can also provide you with more information on our solutions for e-commerce website design.
We also invite you to read about e-commerce website design in London in the scheme below: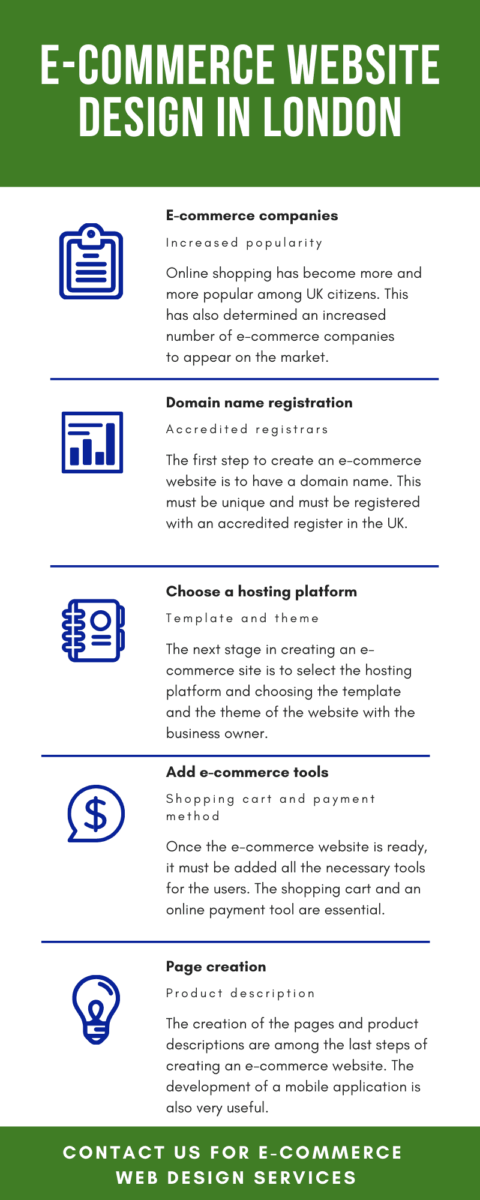 Adding a shopping cart and online payment tool to an e-commerce website
Two of the most important elements when creating an e-commerce website in the UK are the shopping cart and the online payment tool. The procedure of adding the shopping cart is easy, however, most shopping carts look the same and thus adding a little bit of innovation can attract more customers.
Our web development team in London has the know-how to create appealing e-commerce websites with shopping carts and they recommend to customize the 'add to shopping cart' experience with several features, such as links to compatible accessories to the products the clients buy, extended warranty or insurance buttons, and even a line where modifications to the product can be made.
With a broad experience in creating various types of websites, our web design agency in London can help you create unique e-commerce websites with shopping carts.
When it comes to online payment tools, these must be carefully selected. This implies accepting various methods of payment, among which credit and debit card payments are the most popular. In order to be able to process online payments, one will also need to create a merchant account with a UK bank.
Additionally, if you want to increase your sales, having an app created is a must. For this, we invite you to work with our app developers in London.
Steps after the development of the e-commerce site
The simple creation of a frame that supports the products you intend to sell is not sufficient, which is why once the website is ready there are other steps that need to be completed. Among these, we mention the following:
the creation of the pages;
choosing the product names;
creating product descriptions;
creating the photo presentation of the products.
An e-commerce website needs to have a few relevant pages just like usual sites and our web design agency in London can create tailored homepages, about us and contact pages that meet the requirements of an online shop, but most of all that help clients find the information they seek easily.
The homepage will generate the first impact on the clients, and this is why our web designers recommend a simple page that displays the most popular products. The about us page should contain relevant information about the e-commerce business alongside the story of the company opening it in order to help clients understand why they should choose you and your products. Then, the contact page is the most important when it comes to setting up an e-commerce website because it must contain all the possible ways in which clients can contact you. It should display the e-mail address and the telephone number of the company. It is important to note that even if the UK will exit the European Union, the General Data Protection Regulations (GDPR) must be respected when selling goods and services to clients in the EU.
We have a dedicated team of specialists who can help with SEO, copywriting and content writing services and who can create the pages of your e-commerce website.
Our web design company in London focuses on offering a wide range of services that encompass all the requirements related to the creation and maintenance of websites. If you have any questions about our e-commerce website design services, do not hesitate to ask us.
You can also link an application to your e-commerce business. Our app developers in London are responsible for a wide range of tasks linked to the management of an application lifecycle, such as creating application prototypes in accordance with the requirement and writing code to produce the finished applications in a predetermined amount of time. They also work fast in order to comply with our clients' requests.
Why set up an online business in the UK?
Starting a business no longer implies tedious procedures, however, an online company that uses e-commerce websites in order to function is even simpler to create. When having to decide between a traditional company and an e-commerce one, it suffices to understand that not only the costs of the latter are significantly lower, but the reach to customers all over the globe is possible.
The UK is one of the most important e-commerce markets in Europe and the products created and sold here benefit from a lot of trust thanks to their high quality.
Our web designers in London can advise on how to choose the platform, what to integrate and what to include in your e-commerce website and then can get started on working on its creation. You can also rely on us for Social Media Marketing services in order to promote your business on various channels.
What to consider when opening an e-commerce business in the UK?
The number of e-commerce companies is rapidly growing at a national level in the UK, which is why a future business owner must consider a few, but very important aspects before starting the business. Among these, the products to be sold should be unique and have a good description in order to attract as many clients as possible. The e-commerce website must also look professional, which is why help from a web design agency in London can prove crucial.
Online companies in the UK should respect the Internet Services Providers' Association regulations.
In the UK:
e-commerce sales are expected to represent 7.94% of the UK's Gross Domestic Product in 2019;
87% of the online active population in the UK is expected to shop online this year;
the average amount of money to be spent by a shopper is expected to be 3,620 euros in 2019 compared to 3,254 euros last year;
the e-commerce market is expected to reach 200 billion euros at the end of 2019.
For professional e-commerce website design services, please contact our web designers in London.