Having a website or having a website created is no longer difficult, however, companies have found themselves in the position of promoting their businesses on other channels apart from the traditional ones. UK businesses, for example, are experiencing growth if they when promoted on mobile phones, and for this, they must resort to mobile web design service providers.
Our web design agency in London covers a wide range of services that suit the needs of every business, including those requesting mobile web design. Below, we present you with a guide on our mobile web design services in London so that you can maximize the profits of your company.
What does mobile web design target?
Mobile web design refers to the promotion of a "regular" or desktop website on the internet on mobile devices. However, in order to do that, a website must be optimized in a manner in which it is displayed correctly on a mobile phone or tablet.
Mobile web design implies a slightly different branch of web design, and our team in London is ready to offer complete web development solutions that encompass both services.
What are the steps of creating a mobile-responsive website?
There are several steps that need to be completed in order for our mobile web design team in London to respond to the needs of business owners. These usually imply:
defining the scope and determining the goal of the website (a detailed discussion with the future owner will be required)
the creation of the sitemap and of the wireframe in a way that responds to desktop and mobile users;
having the website created by our web designers (this includes domain name reservation and web development);
the creation of the layout, pages, buttons and other addons for easy access and display on mobile devices;
the creation of the content, the testing, and the launch of the mobile version of the website are the last steps to be completed.
One of the important aspects of mobile web creation at our offices in London is testing the website on various types of mobile devices in order to verify its functionality. We can work with existing websites that need mobile versions, or we can create websites for all types of users.
We also recommend those choosing to have mobile website versions to link them to dedicated applications. Our app developers in London can handle the development of mobile apps.
If you have any questions about our mobile web design services, our developers in London are at your disposal for answers.
You can read about our mobile web design services in London in the infographic below: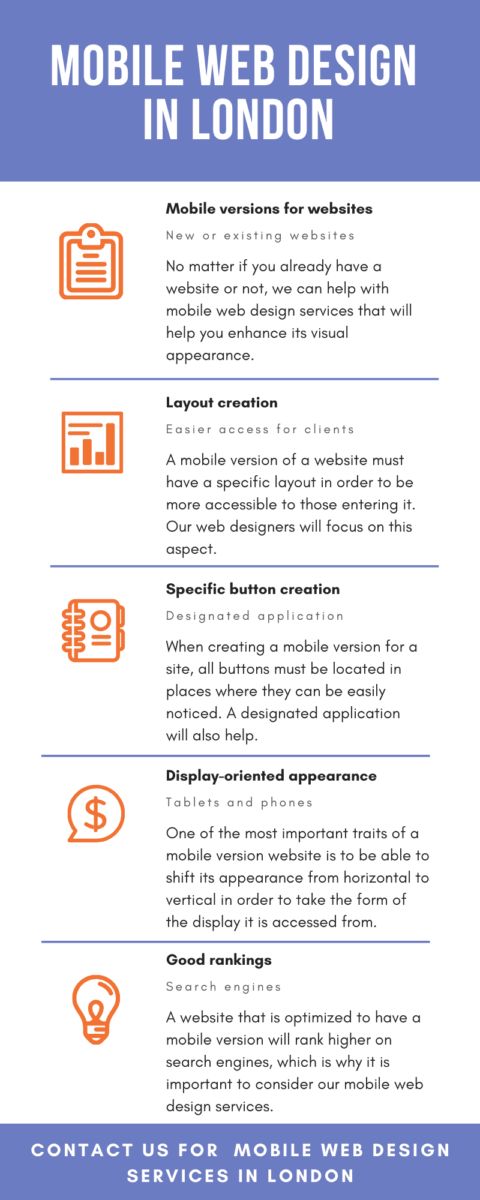 What differentiates a desktop website from a mobile one?
Many people use their mobile phones for buying things on the internet, for browsing, gaming, reading, and other activities. When some of them use a desktop computer for the same activities, they say that there is no difference between a desktop and a mobile website. However, there are several differences. The layout of a mobile website is different because both mobile phones and tablets can be used vertically or horizontally, a functionality that is not available on the classic computer. In order to allow users to see a website both ways, a mobile version of the respective website is required. Also, the buttons, pages, and other features on a mobile website must be narrower when appearing on the screen of a mobile phone or tablet, which implies a different layout for this version.
Some clients believe that a desktop version of a website will work just fine on a mobile phone, however, this is not completely true: while the mobile phone or tablet will display the website, it will probably not display it entirely.
With the help of our mobile web design services in London we do just that: make sure that a website is displayed correctly on any mobile version of the respective website.
Another important aspect of our mobile web design services is that the website will function correctly and fast.
Those with e-commerce companies in the UK will also be interested in knowing that a mobile version of a website and application will obtain a higher ranking on search engines and thus help them increase their sales.
To ensure success, our application developers possess a range of soft skills, such as technical expertise in order to thrive in their professions. They also have advanced programming abilities and a working knowledge of several distinct coding languages. Our app developers in London are also able to interpret consumer requirements and incorporate them into the mobile applications they produce.
We invite you to our web design company in London to discuss how we can help you increase your business on one of the most competitive markets in Europe with the help of dedicated web development services. We also invite you to watch our video:
​Mobile user statistics
The UK had the 3rd largest e-commerce market in the world, according to Statista.com. A recent study completed by Hosting Facts in 2018:
China has the largest number of internet users in the world (more than 802 million users in 2018);
98% or 788 million of these Chinese internet users were mobile users at the level of 2018;
the global internet advertisement sector increased to 205 billion USD compared to that of TV advertisement which reached 192 billion USD last year;
approximately 1,92 billion people are expected to buy something online by the end of 2019.
For mobile web design services in London, please contact our web design agency.
If you are interested in the creation of an application for mobile devices, our app developers in London can help you. They have the knowledge and expertise to fulfill any request with excellent outcomes. Do not hesitate to get in touch with us for an offer if you want to discover how they can assist you.