The number of UK companies using specialized services when it comes to the creation of websites for their businesses has increased as the competition among them also grew. The need to have a professional website that promotes business in an accurate way has determined many business owners to use dedicated services for this purpose.
This is also what our web design company in London does: responds to all clients' requests in a professional manner. Apart from our web design services, you can obtain other dedicated solutions which include web development, app development, and paid advertising solutions in order to cover all the needs of an online business.
If you are wondering why you should choose our web design company in London for these services, we invite you to read below about the work we do and how we can improve your UK company's visibility on search engines.
How to choose a web design agency in London
Competition in the online environment is as high as ever and choosing a web design agency to work with can be challenging, especially in a large city like London. Even so, the first thing to consider is not what you want from the agency to do for you and your business, but what your website must look like. Starting from this point, you can build an idea around the site that will inspire you to choose the web design company to work with.
Once you have decided what you want from your website, you can start reviewing and gathering information on potential web design agencies until you narrow down the list to just a few. Here is what you can consider when selecting the company to work with:
the time it has been on the market;
the experience which is usually proven through a portfolio;
former clients reviews;
the services it offers;
if the services it offers match your needs and requests.
When discussing the time on the market, you should know that while some agencies have been around for many years, web design companies that have a shorter history can be just as good.
Our web design company in London, for example, has been servicing clients for several years now and has gathered a team of professionals in various fields in order to offer a holistic approach when it comes to meeting customers' demands. This means that we don't focus on web design services alone, but we also rely on the expertise of web and app developers, SEO, and online marketing specialists. This way, you will truly know that our entire agency works for you in order to create the website you deserve.
We also have a vast portfolio so you can get an idea of what we've been doing so far. There, you will see some of our most important projects.
Another important thing you should know about our web design company in London is that our team is made of young and enthusiastic professionals who have plenty of ideas ready to be put in practice for you.
Even if we have mentioned this before, all our web design services are tailored to our clients' needs and requests, so that every piece of the website falls into place appropriately.
You can rely on us for web development services in London if you want to have a website built from scratch, or you can have your website redesigned with the help of our professionals who can give it a new and more modern look.
Different kinds of applications can be made by our London-based app developers. You may count on us for specialized solutions whether you're interested in iOS or Android operating systems. We provide a wide range of services at your disposal that can meet the needs of your business's development.
Why choose to work with a web design agency?
Most entrepreneurs who start their first companies think more about profits than marketing their business, although marketing is the key to profits. This is one of the main reasons they think they should handle the creation of websites for their companies on their own, especially when they have so many online tools and resources at hand. However, an unprofessional website can lead to losing customers instead of attracting them, as various studies conducted by large search engines have indicated that a new user spends no more than a few seconds on a website, these seconds representing the key to them buying anything from an e-commerce site, for example. The difference between a buying and a non-buying client is often the presentation of the respective website and on a market such as the UK where customers are quite demanding, our web design company in London can make that difference.
There are many reasons to choose and work with a web design agency, among these, some of the most frequent are:
experience and knowledge are perhaps the most powerful reasons to choose to work with professionals;
easy identification of issues and addressing them quickly before they do any damage;
efficiency which can be translated into integrated solutions from which you can choose the best for you and your company;
support – it is always a good idea to have someone to rely on when dealing with website problems;
access to professional tools which are usually too expensive for a single company to purchase.
These are also some of the reasons that recommend our web design agency in London.
Services covered by our web design company in London
Our web design agency in London has put together a team of professionals from all internet and website development areas in order to offer complete solutions to small, medium-sized and large businesses seeking to go online or to improve their online presence.
Here are the services you can rely on our web design company in London:
web development services which imply the creation of a website from scratch up to the point of the actual design of the site;
web design services which imply the creation of the actual website with all the necessary pages;
content writing and SEO services which imply the creation of content in a way in which search engines find easy to rank on first positions on their pages;
SEM services which refer to social media paid advertising for those seeking to promote their businesses;
app development services for those who consider their website needs to be completed by a dedicated application.
You can choose one of these services or you can opt for more, based on your needs. Our team of web designers and web developers in London are at your disposal to answer any questions.
Professional web design services in London at affordable prices
Many clients look for the best price when contracting the services of a web design agency in the UK and we can proud ourselves with offering some of the most competitive rates on the market. Even so, our web design company in London puts quality and professionalism over anything else, so if you are looking for professional services, look no further!
We invite you to read about why should choose us in the scheme below: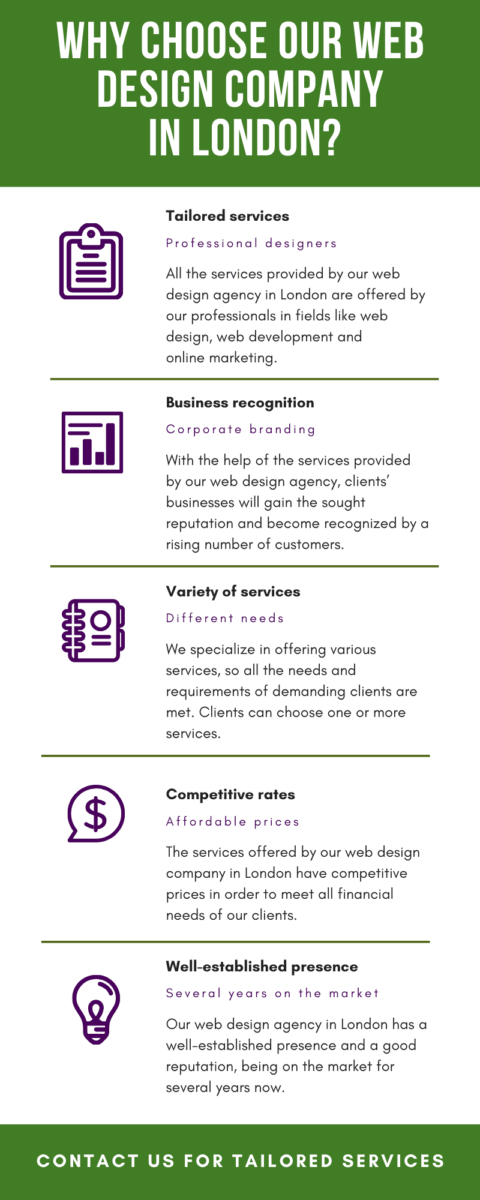 We can create all types of websites for you
Some of our clients do not know that there are several types of websites that can be created, which is we take it very seriously to inform you about your choices and even help you make decisions. We can help with the development and design of websites for blogs, e-commerce businesses, or corporate websites.
How much does it cost to work with a web design agency in London?
This is one of the most frequent questions we get, as many clients think that if a business is based in London, its services will have higher costs than others located in other cities. However, competition keeps the prices at the same rates as in other parts of the country, the only aspects that could add more to the entire cost of creating a website is the complexity of the requirements. Therefore, you need not worry that if you decide to work with a London-based agency will cost you more, as it will often not.
Also, if you want to stick to your budget, we can come up with solutions that match your requirements in this sense, as we respect your business and financial resources. Moreover, every work we complete on your future website will be run by you.
With our web design company in London, you could obtain a better price considering you can find more services with one agency, not to mention the significantly reduced period of time to have everything ready faster than when contracting various services with different companies.
No website is launched without being tested by us
One of the most important phases when launching a website is testing and this is one of the things we care about, as no website we create is put online without being checked and tested for up to a week in order to make sure everything is in order.
During this phase, clients can still make small changes and improvements where they consider necessary, this way ensuring they really get the product they asked for.
We create mobile-friendly websites
Many studies have shown that people around the world use their mobile phones to navigate on websites, which is why we have understood and adapted to this reality by creating mobile-friendly websites for our clients. Moreover, for those operating in the e-commerce sector, mobile applications are a must and we can deliver such apps in accordance with the latest trends.
Being modern and innovative, alongside offering high-quality services, are among our most important qualities as a web design agency, so if you resonate with these values, you can count on us when seeking to have a website created.
Use our experience for your company
As mentioned above, experience and knowledge are two of the most important reasons why many companies in the UK choose to work with agencies that focus on specific industries. This is also the case of companies operating e-commerce that want to make a difference in the services they provide to their clients.
As an agency that has been on the market for quite some time now, our web design company in London has had many clients and has an impressive portfolio. During this time, we have handled many projects and became quite creative when it comes to complying with our clients' requests. We have also followed all trends and put them to the use of our clients.
We have created a reliable team made of professionals in various fields, such as web design, web development and online marketing in order to cover all the needs of existing and future clients.
You can rely on our web design services in London, or you can choose packages which include more services, among which web development or mobile application and website creation.
Support offered by our web design company in London
Websites should be available 24/7 as this one of the main reasons companies seek to have an online presence, however, when dealing with a website the owner has created by him or herself, addressing various issues can be complicated. When working with a web development agency in London, however, ongoing support is available. Any issue you will have with your website will be addressed by our specialists in the shortest time possible.
We will identify and address any issue in due time, so it does not cause interruption or unpleasant situations for you and your clients. We can handle any problem occurring to your website and make sure it works properly.
Also, if you have any questions related to the creation of a website, our advisors are at your disposal with complete information and details.
Access to professional programs
It is true that there are many open-source programs available, however, these will never offer all features a professional program does. When dealing with a professional web design agency in London, on the other hand, access to professional programs is guaranteed. For those wondering why such tools are more useful, it is important to understand that they are more reliable, trustworthy and offer access to a large variety of resources. Such programs are usually purchased by agencies in order to offer high-quality services to their clients, which the main goal of our web design company in London.
If you decide to work with us, you can benefit from customizable services for you and your company, no matter the field you activate in. You can choose to work with us no matter if you are in search of web design, web development or online marketing services. You can also have all sorts of websites created by our professionals in London.
How can our web design company in London add value to your business?
This is one of the questions our web development team in London gets quite often. The value added to your business when using our web design services comes as soon your website or application is online.
Our web design company in London will use all its resources to create user-friendly websites that respond to your needs and your clients' as well. If you are in search of an agency to help you create an e-commerce website in the UK, our agency will create it in a way that all elements necessary are combined in an intuitive way, so that your customers will find it easy to use from the first time they access it.
We will also keep in mind all the elements requested by search engines such as Google, Bing, and Firefox to rank a website first when developing and creating your website.
Our work consists of a joint effort to deliver fast, yet fully functional products. You should know that no website leaves our hands without being tested first.
If you have any questions about the services offered by our web design company in London, feel free to ask away. Our services are also presented in the video below:
​Internet user statistics in the UK
According to the National Statistics Office in the UK, the internet had a high penetration rate among users of all ages, as follows:
in 2018, the UK was the 3rd country in the EU in terms of internet users with ages between 16 and 74;
99% of internet users in the UK in 2019 were people aged 16 to 44;
91% of these users were categorized as recent users in 2019;
London and South-Eastern UK were the regions with the highest internet user rate of 93% in 2019.
The statistic provides data collected between January and March 2019.
For complete information on the services offered by our web design company in London and for an offer, please contact us.