Many companies operating as brick and mortar businesses have started to pay attention to having a presence in the online environment. Social media channels and dedicated applications are two of the simplest ways through which a business can interact with clients, however, one of the safest ways of ensuring a business' reliability is having its own website.
One of the most employed platforms used for website development in London is WordPress. Because it is simple to use and offers many options and add-ons which can be integrated into a website, WordPress has quickly become an all-time favorite for those who want to have their own websites.
Our web design agency in London can support entrepreneurs with dedicated WordPress website development services.
Steps for setting up a WordPress-based website
WordPress is used by both small and large companies in the UK seeking to have their own websites. At the moment, WordPress is the most employed content management system (CMS) in the world because of the easy functionality it provides.
Those who want to have their own websites can rely on our website design company in London for quick WordPress web development services which imply the following steps:
choosing a domain name and registering it with an accredited registrar in the UK;
choosing a web hosting services (WordPress has a list of such hosts which makes it easy to work with);
connecting the domain name with the selected web host and installing WordPress;
start creating the architecture of the website by using the WordPress tools and plugins available.
Even if there are persons who decide to use WordPress to create their own websites, you should know that for a professional website, the assistance of a web developer is crucial.
We invite you to read about our WordPress website development services in the infographic below: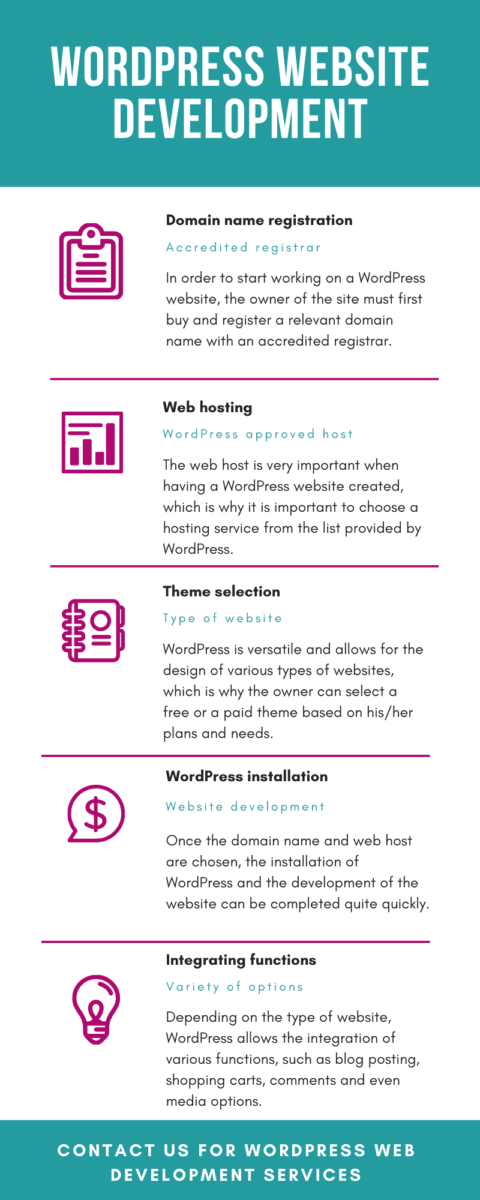 Step 1: Registering a domain name
The creation of a website in the UK implies selecting and registering a domain name which must meet certain requirements. Our web development team in London can help you select a unique domain name which consists of the theme, products or services you want to offer. The domain name should usually contain the business name of the company for easier identification.
Step 2: Choosing a web host
Most of the times, web hosting companies allow those who buy their services to choose domain names for free, however, for full ownership of the domain name, our web design agency in London recommends businesspersons to go for separate domain name registrars and paid web hosting services in order to have full control over their brand.
As mentioned above, you can select the web host from the list provided by WordPress.
With years of experience behind, our team who specializes in web design in London can help create themed WordPress websites.
Steps 3 and 4: Installing WordPress and start building the website
Once the domain name is registered and properly connected with the web host, our web designers can set up WordPress by simply installing it from the web host's library and start building the website. This is why it is advised to use web hosts approved by WordPress.
Here are the main functions found on WordPress' dashboard:
the homepage which needs to be uploaded with information about you and your services or products);
a posts option you can enable if you want to upload blog posts on the website;
the media option through which you can upload and keep pictures, music and videos;
the pages which can be static pages (the About Us page, the Contact page) and regular ones;
the comments and the appearance options which can help you manage the comments, respectively choose and organize the theme of your website;
the plugins through which you can customize your website with different options, such as adding e-commerce shopping carts.
Speaking about e-commerce, you can rely on us if you want to start an online store and need e-commerce website creation services in London.
You can choose from a variety of alternatives for creating apps. Our London-based app developers can create a wide selection of applications that will help you increase the money your business generates. In order for us to provide a solution that is suitable for your company, kindly get in contact with us and let us know how we can help.
Why use WordPress for site development?
WordPress is one of the easiest to use CMS platforms in the world and our web designers in London have used many times with great results for our clients.
The preference for WordPress for website development is increasing steadily considering that:
60% of the CMS-based websites around the world use WordPress to power them;
around 28% of the WordPress-hosted websites are e-commerce sites setup on WooCommerece (WordPress' dedicated platform);
661 WordPress sites appear online on a daily basis;
34% of all websites in the world are powered by WordPress in the present (4% higher than last year);
one can find more than 50,000 plugins on WordPress.
For complete WordPress website development services, please contact our web development team in London.