The UK is one of the largest economies in Europe and when it comes to retail, the online environment plays an important role for companies selling all types of goods. In order to be able to sell goods and services online, a responsive and user-friendly website is of key importance.
Below, our web designers in London explain how to have a website created in the UK. Our web design agency in London offers various web development services for those interested in establishing an online presence.
Steps for creating a website
No matter the reason you decide to create a website in the UK, it is important to follow a few important steps. Even if it is not difficult to create a website thanks to the numerous tool available today when it comes to functionality, user-friendliness, and easy access, it is important to consult with specialists.
According to our web development specialists in London, here are the main steps to follow when creating a website in the UK:
decide on a domain name and choose a web hosting service (the domain name must be unique and must respect several regulations);
have the website developed and designed by our team of web developers in London;
register the chosen domain name with one of the accredited registrars (we can help with that too);
decide on the layout of your website (it is important to let us know the purpose of your website);
have the right content added on your website (we can help with various SEO and SEM services).
Even if websites seem to look the same, it is important to make a distinction between them, as they may serve different purposes.
No matter the use of your website, you can rely on us for various web design services in London. Our specialists can integrate various functions so that your UK website is truly unique.
Our app developers in London can assist if you want to create an Android application. This operating system, which is used by the highest number of mobile devices worldwide, can be one of your finest options if you're trying to expand into new regions.
Types of websites in the UK
As mentioned above, websites usually seem to have the same look which implies various pages, such as the first page (also known as the landing page), a contact page, a terms and conditions page, and most of the times the Frequently Asked Questions (FAQ) page. However, when having a website created, there is a little more to consider. For example, the type of website you want to have created in the UK.
Websites can be categorized as:
blogs which are the simplest to create and which do not require that much work, however, they need to be fast in order to access them easy;
company websites which usually require a lot of work because they need to look professional and must represent a business' core services;
e-commerce websites which are intended for selling goods online and which need to have specific elements, such as shopping carts;
media websites which are required by those interested in setting up online entertainment businesses;
marketplaces which are a little more complex than e-commerce websites and require more tools.
It is important to know that in the case of e-commerce websites and marketplaces, an app that eases access to customers to products or services is necessary nowadays. For such tasks, you can request the services of our app developers in London.
Domain name purchase for a UK website
The creation of a website in the UK must start with the purchase of a domain name and the selection of the web host. There are various aspects to consider for these two steps, among which the fact that the name selected must be unique and must reflect the object of activity of the company or person having it created.
When it comes to the web host, there are plenty one can choose from, however, the additional services related to the main one are the ones that make the difference. Even if most people are inclined to try and find a host on their own in the beginning, they should know that they can also rely on our web design agency in London for useful information on how to choose a web hosting service.
We can also provide logo creation services that represent the goods or services your company will promote through the website. Our services do not target companies only, as we can create various types of websites that respect in detail the requirements and ideas of our clients. Moreover, they will be consulted on the most important steps in the web creation process and will be regularly updated on the progress.
Website development and design services in the UK
Once the first stages of having a domain name and web host are settled, the most important parts of the actual website creation process will begin. For this, clients will discuss with our web developers and designers who will take note of what the website will look like.
While our web developers will propose the appropriate platform, our web designers will be in charge of the creation of an appealing website.
We can create all types of websites, from personal blogs which require not so many functions to complex e-commerce platforms that need to encompass shopping carts and product sections, and which are attractive from a design point of view. However, our main strength relies on the fact that each website we create is unique and will totally represent the client's idea.
If you already have a website, we can redesign it in order to give it a new and modern look.
Our web design company in London offers many services for all types of clients, among which website creation is one of the most important.
Nearly all industries employ application developers who are responsible for routinely updating apps and making them available to end users. This is also the case for our app developers in London who are involved in many of the processes related to the creation of various types of apps. They can create both Android and iOS apps.
We invite you to read about the creation of a website in the UK in the scheme below: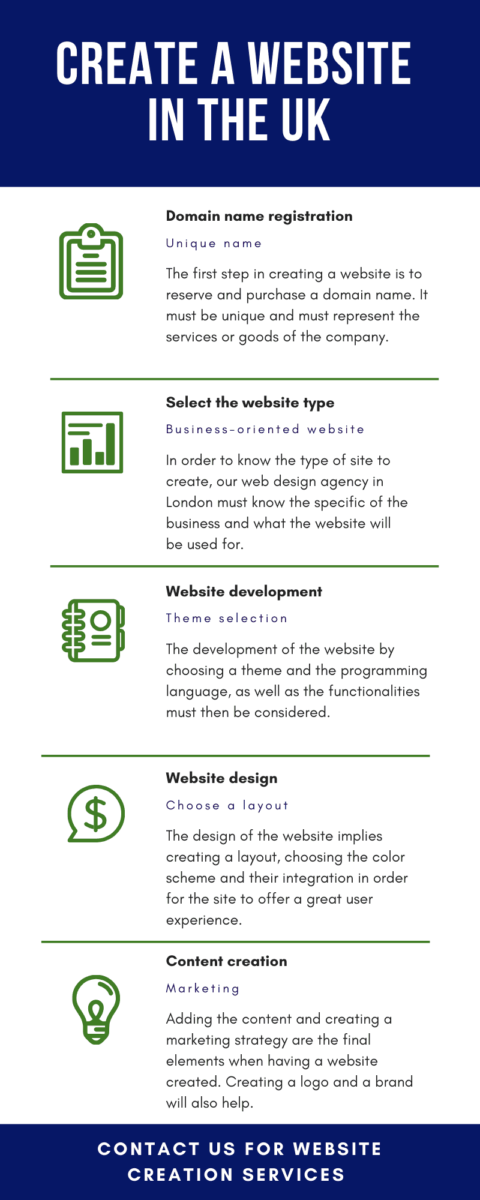 How hard is it to create a website in the UK?
As mentioned above, creating a website is not hard, however, when that website will represent the image of one's business or will help an entrepreneur make money, it is important to work with professionals. Our website design agency in London will not create websites, but will first test various layout designs, test them, and verify them for errors several times before launching them. All this to ensure a flawless product. As a matter of fact, offering a product which meets the clients' requirements is the main goal of our web designers in London.
With a vast portfolio, our web design agency in London offers professional services at the highest standards.
How to create a website for a small business in the UK
There are many small businesses in the UK market and the creation of a website should be one of the most important concerns of their owners when it comes to promotion. Many businesspersons think that the creation of a website is expensive, however, in time it has proven more expensive to promote a company through usual ads and billboards. Moreover, having an online presence will imply reaching a greater number of clients, including foreign ones.
The creation of a website for a small UK-based company will imply a simpler approach if the owner wants it which will lead to lower maintenance costs, in the end, therefore, if you haven't taken into account to promote your business online until now, you should start doing it.
Affordable website creation services in the UK
Compared to several years ago, the cost of creating a website has decreased substantially thanks to the appearance of a large number of web design agencies and numerous platforms which enable them to provide their services in a faster manner. This is why the entire price of web development and design services has become affordable to many people and companies.
If you need personalized web design services in London, you can ask our web design agency for details on the costs. We will review your idea and come with a tailored proposal.
How to choose a web design agency in London
Given the fact that there are many companies offering web design and development services in the UK, choosing the right one can be difficult. However, there are ways to see if the agency you are interested in is also the right one for you. First of all, you should check the services it offers and then the portfolio. Also, you can verify a company by asking if it has separate web design and development departments, as these are two different domains, therefore each specialist will be able to do his or her work and the overall time spent on the actual creation of the site will be shorter.
If you have any questions, our web developers and designers can answer them.
Apart from creating websites, we also offer other services, among which SEO for the optimization of the content on the site, SEM and SMM which implies the promotion of the website on various media channels and Social Media and even app creation for those who want to have dedicated apps connected to their websites.
You can also watch our video:
The most employed website creation platforms in the world
Below, we have gathered some information on the most employed website creation platforms in the world. According to BuiltWith, in 2019:
52% of website owners around the world use WordPress as a platform for their websites;
Wix is another platform used for the creation of websites, accounting for 7.05% of the total of internet users at a global level;
Joomla! platform accounts for 4.21% of those operating websites at a worldwide level;
also, in January 2019, there were close to 4,4 billion internet users in the world, accounting for 57% of the global population, according to Hootsuite.
If you are interested in having a website created in the UK, do not hesitate to contact our web design agency in London for complete services.